[and then there was
II
and then there was
I
]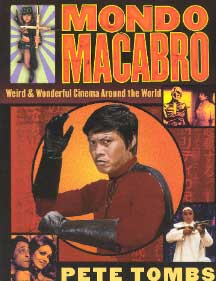 Yours Truly was back at the library. Having deposited a few returns, YT proceeded to the shelves browsing. YT knew there were holds. But this was the second part of the visit: Impulse shopping, without the purchase. YT spots
Joe Queenan
's
The Unkindest Cut
, wherein he chronicles his attempts to write and make a movie (
12 Steps To Death
) for less than $7000. Since YT has enjoyed reading other Queenan works. The cynical take on populist mush and pandering tripe has been a comfort on many an occasion.
YT then spots the golden pick of the evening. Innocently sitting on the shelf above is
Mondo Macabro: Weird and Wonderful Cinema Around The World
by Peter Tombs. YT knows that Peter Tombs is also behind the
site of the same name
. What makes this wonderfully delightfully catalogue of bizarre movies is the set of two chapters dedicated to Bollywood (with a special emphasis on the Ramsay/Bhakri horrors that YT has always relished).
This book also features the Dariya Dil LP cover (take a look to your right) from Niall Richardson's LP cover collection (the actual page for the record is here) that made it to a BoingBoing post as well. Needless to say, YT is interested in the soundtrack.

YT now performs some complicated mental computations involving addition and subtraction and estimates that YT will not tip the scales on the maximum number of items one may have issued out from the library. YT proceeds to the checkout counter. The weary lady smiles knowingly (unless YT is imagining it). She has trucked stuff off the holds for YT; it's unlikely that someone would forget that.

After scanning the card, she informs YT that there are 8 holds waiting. YT has to perform some quick calculations, but shock at the upward blip in the number between the last time YT checked the list online and now results in a clerical error. YT is prepared to sacrifice a book.

YT's eyes now follow the lady to the holds shelf. YT realizes how eerie it is to see your name staring back at you. Several times. Hand-written. Man! That book is huge. Turns out to be one of several Harlan Ellison books that have arrived. It's called Medea: Ellison's world (probably owes its name to Medea), a document of the process of creation of Sci-Fi: from world to character-driven tales. Should prove interesting. Next up is a collection titled Alone Against Tomorrow: Stories of Alienation in Science Fiction. Nice cover. Then there's Edgeworks I. Although the reports on content have been slightly negative, there's another entertaining bogus author bio, and it's the packaging that makes having a good old printed book worth it.

The same applies to Slippage. Aside from a lot of typographical excursions (placement of phrases and words in keeping with the title), there's also the mass-market appearance of the long short story (yeah you read that right) Mefisto in Onyx, which YT just finished and liked for the theme, and the language, as well as the cover art and introduction by Frank Miller (words and phrases to remember: "jaunting into someone's landscape" and "shrike").
With enough Ellison to drool over for the next few weeks, YT now moves to the next few items. There's Nabokov's postmodern undersung Pale Fire, which ends up on the list thanks to a vigorous month-long recommendation from Sudarshan, who also posted a review on Mount Helicon.

And finally, since YT is a film buff, there's Sam Peckinpah's West : new perspectives.

A splendid time is guaranteed for YT.